The Book Leads and Mindset Talks aim to keep an ongoing conversation going --
one of learning, curiosity, and community.
Impactful Books Book Life & Leadership
In this series, I reach into my network to find out the books that have made the most impact on my guests while learning more about who they are, what they do, and the lessons they can share with my audience.
Life Beyond The Checkboxes
In this series, Marketing & Energy Coach Prati Kaufman and I delve into everyday topics and how we view them as two friends who happen to be coaches. We bring our own unique, honest, and straightforward insights to every conversation.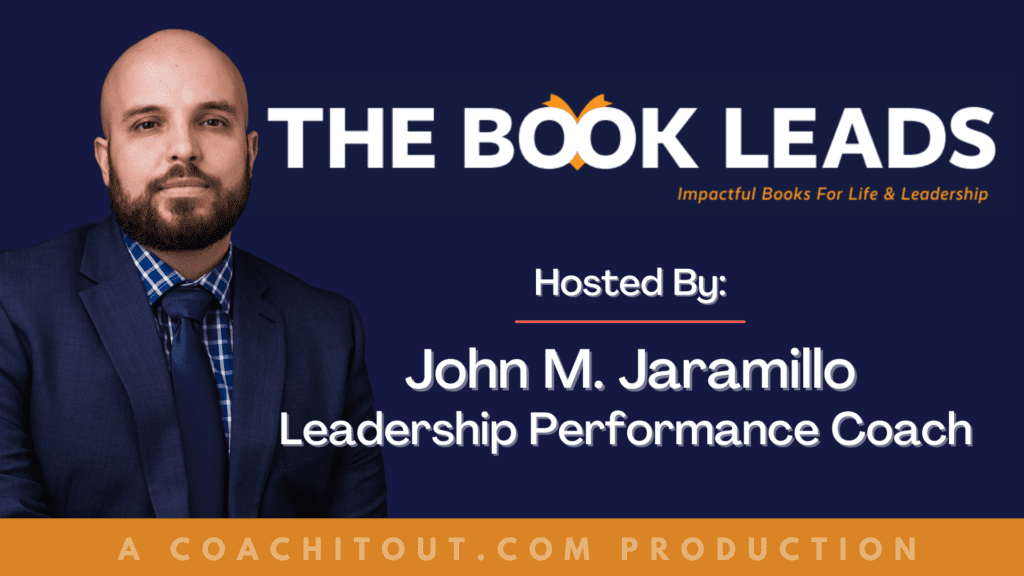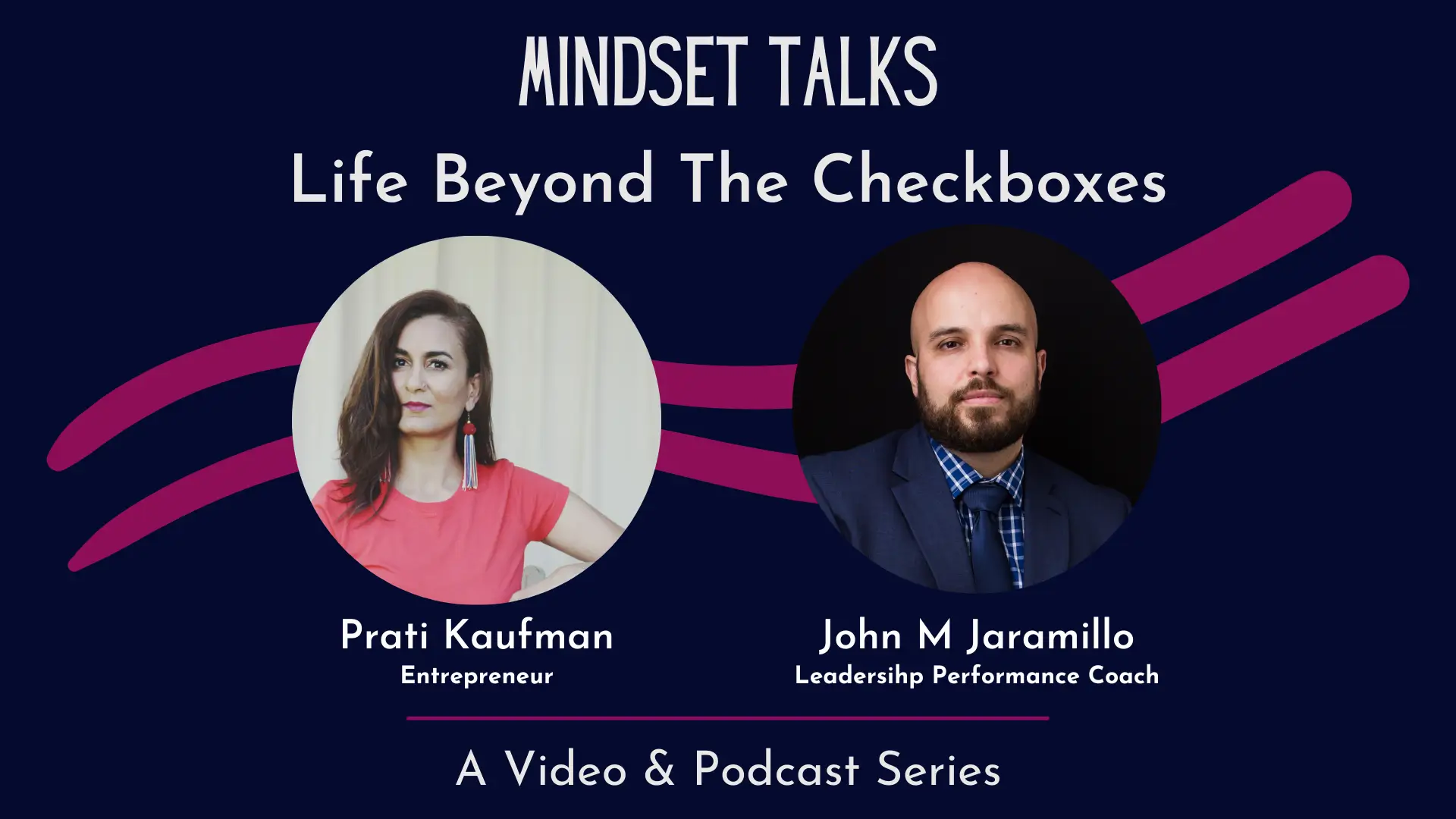 I had the pleasure of being on John's podcast, "The Book Leads" as the author of my own book "School of Grit". John is not only a gifted interviewer but is truly vested in his guests and his mission. I would recommend John to anyone looking to find some inspiration and guidance in their own lives.
~ Brad Ritter
Author, Account Executive, Performance Coach
John Jaramillo is one of those natural leaders who genuinely makes people around him better. He connects people and opportunities in ways that bring out the best in everyone he meets. I have worked with John in several capacities, and I love how authentically open-minded and interested John is in his approach. John is a super-connector and adds value wherever he participates. He engages others through thoughtful inquiry and care that have far-reaching impacts on improving families, communities, and the workplace where these people live. Invite John into your world and see how he helps you expand what is possible. Check out how John did these things with me on his "The Book Leads" podcast episode #21.
~ Darrin Tulley
Best-Selling Author, Motivational Speakers, Culture Coach
I had the pleasure of interacting with John on the fine podcast he runs. In the interview, he was prepared, pleasant, and seemed to really "get" the book I had written. We had a fruitful discussion. Furthermore, a glance at his prior shows indicates he is asking good questions of noteworthy people in many fields. We need more people like him trying to move the needle!
~ Jason Merchey
Author, Real Estate Investor
John is a very thoughtful yet passionate leader who has a talent for mining the gold in other people and their books. I loved being a guest on John's "The Book Leads" YouTube show and podcast. He was able to dig deep and we have a very meaningful conversation about not just my book but life and how to deal with it. I've listened to other episodes as well and it's clear that John is a leader in managing the conversation and gleaning the best ideas to help his listeners.
~ Maureen Ross Gemme, MS Ed.
CEO, Emerge Leadership Academy, LLC
I was fortunate to meet John at an online gathering of professionals committed to real conversation during tenuous times. What stood out for me immediately is his empathy and authenticity. He shares thoughts and insights that get others thinking so that ideas begin to link with others. I was recently a guest on his podcast, The Book Leads, and it was one of the easiest interviews of my life. That is due to John's expertise in putting others at ease, leading with curiosity, and creating space for the exploration of ideas. I am grateful for our conversation and look forward to the next one!
~ Nicole Weyer
Leadership & Burnout Prevention Coach, Root to Rising Coaching
I am grateful I have had the opportunity to be on many podcasts, but 'The Book Leads' with John stands out as a favorite. The reason it was a favorite was that John was very prepared, curious, and organized. While many podcasts host "wing it", John was prepared with a discussion outline, but also had the wisdom to apply contributive new content. I recommend listening to his podcast, as well as engaging with John as he is a great thought leader!
~ Cory Carlson
CEO/Owner, Connector Consulting
I was a guest on John's book leads show and as an author, John enables you to receive awareness for your book and truly cares about his guests to grow their visibility for their books. He asks excellent questions and I highly recommend him if you want to gain awareness, promote your book. He does amazing promotions for your book as well.
~ Tina Kadish
Owner/Business Coach/Life Purpose Coach at From Job to Joy
I first met John through the American Marketing Association and since the beginning, he's impressed me with his ability to think big and lead a group. John knows how to bring people together and help the collective group grow, learn, and succeed, with the best example being the podcasts he's launched.
I was lucky to be a guest on his Book Leads podcast where I got to share my takeaways from They Ask, You Answer and it led to a fascinating conversation on the future of sales and marketing through education. John's podcast is going to bring more and more people to the forefront of the industry and help them capture what success looks like.
John's an absolute pleasure to work with and is someone you want to be connected with and learn from!
~ Connor DeLaney
Director of Membership at IMPACT
I have really enjoyed working and getting to know John. His diverse academic background offers unique perspectives, prompting a natural knack for asking great questions. John has created a platform where the exchange of these ideas that impact our personal and professional lives can be illuminated as well as explored. As a guest on his podcast, I really appreciated his attention and willingness to explore the topics of intention, gratitude and the limitations of comfort zones. Looking forward to our next conversations to come!
~ Mboone Umbina,
VP, Brand Strategy at David Rio Chai, LUMO Coach
John is a year into his Book Leads podcast, and I've had the pleasure to get to know him through his invitation be his guest. As a host he is prepared, gracious, relevant, vulnerable and entirely curious. He puts you immediately at ease, and builds conversations that connect to a broad audience and can evoke your thinking. He wants to know how people "tick" and why they are who they are - and he puts it that way, and means it. I enjoy and respect his growth and learning focus, for himself and the audience. My hunch is John brings all of these qualities and more when he's coaching and teaching others. I would recommend affiliation with John in any of his roles, you'd enjoy and evolve in the conversation.
~ Jill Berquist
Founder/President, Executive and Leader Coach at
Berquist Coaching Services, LLC
I had the pleasure of being a guest on John's podcast "The Book Leads." John is an expert facilitator and creates space for honest, thoughtful, and expansive conversation. I love books and believe they hold a particular space in elevating the human experience. John truly believes the same, and his commitment to the topic, his guest, and his audience is inspiring. John is a lifelong learner, and his platform promotes rethinking, belonging, and humor. It was a fantastic experience.
~ Karen Senteio
Executive Coach and Consultant at Karen Senteio Consulting